Default Filters View
New dashboard settings, Expanded and Collapsed, let you choose the default appearance for dashboard filters. Navigate to a report in your personal folder > click three-dot menu > Edit dashboard.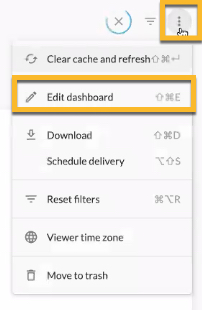 Click Settings to open the Settings dialog box.

On the Filters tab of the Settings window, you can set the Default filters view option to:

Expanded — The filter bar shows on page load and filters are shown by default.
Collapsed — The filter bar does not show on page load and filters are hidden by default.
Click Save to save the change.
The Default filters view option defaults to Expanded. If you change the setting to Collapsed, you need to exit edit mode and then refresh the dashboard to see your change.
A dashboard's filter bar may be collapsed (filters hidden) or expanded (filters shown) by default. Clicking the filters icon lets you switch the state of the filter bar between collapsed and expanded.
When the filter bar is collapsed, an indicator appears next to the filters icon that shows the number of filters on the dashboard.
However, only the Default filters view setting permanently changes the default state of the filter bar.
Resetting Filters
Users can now reset all filters to their default state from the dashboard three-dot menu or by using the Command-Option-R (for Macs) or Ctrl+Alt+R (for Windows) keyboard shortcut. Note, depending on your permissions and access level you have a for a dashboard, these are the shortcuts you can use when viewing dashboards.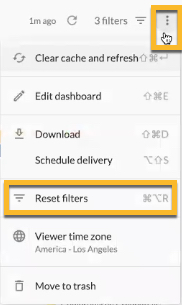 Filters must be present on the dashboard for the Reset filters option to be visible.