Certificate Pinned Applications
Certificate Pinned Applications
TLS certificate pinning is when a desktop or mobile application validates if the proposed server certificates match the hardcoded ones in the application. It's a security technique used to prevent man-in-the-middle attacks (MITM) and secure access to your organization's applications.
Predefined certificate pinned applications bypass the Netskope cloud by default. You can also create custom certificate pinned apps and add them as exceptions for your steering configuration to bypass them.
On the Certificate Pinned Apps page (Settings > Security Cloud Platform > App Definition > Certificate Pinned Apps), you can:
Search for a certificate pinned app by name or filter the apps by type or platform.
View a list of predefined and custom certificate pinned apps. For each app, you can see the following information:

Application: The name of the certificate pinned app. Click to edit the platform and definition information.
Type: The type of certificate pinned app.

Predefined: A common certificate pinned application that bypasses the Netskope cloud by default.
Custom: A certificate pinned app you created.

Platforms: The affected operating system platform for the certificate pinned app.
Bypassed in Steering: The total number of steering configurations where the certificate pinned app is added as an exception. Hover over the value to see the steering configuration names.
Last Edited: The last time the certificate pinned app was edited.

Sort the table by application name, application type, or last edited.
Click to edit or delete a certificate pinned app. You can only delete custom apps.
View up to 100 certificate pinned apps per page.
View multiple pages of the table.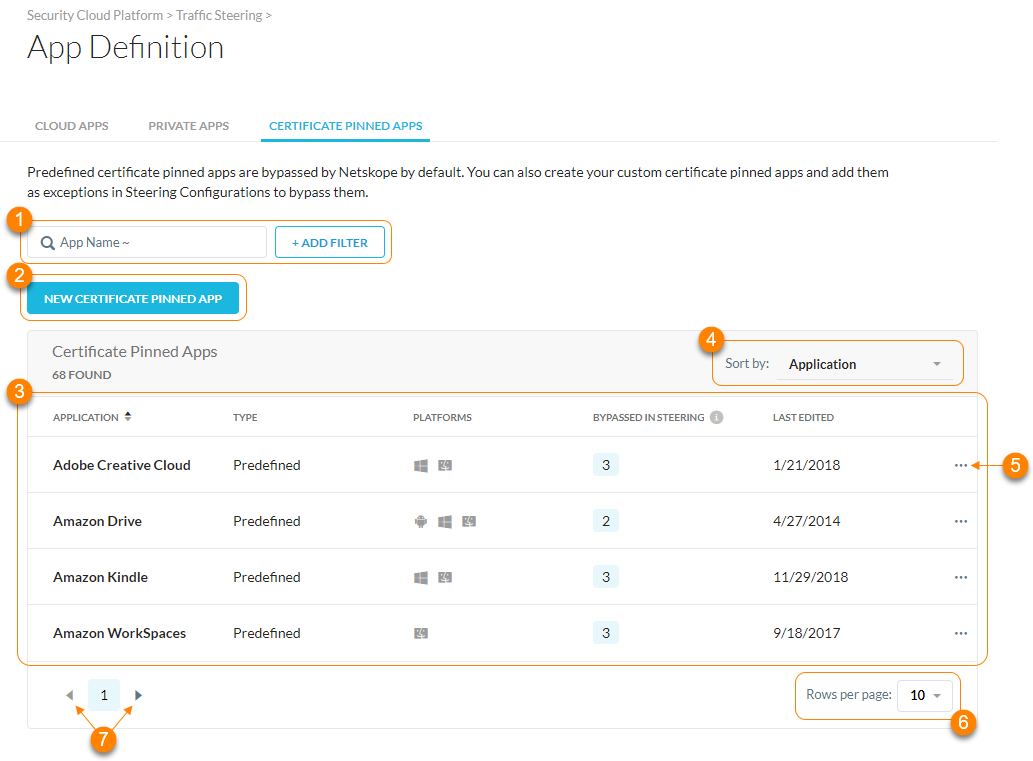 Predefined Certification Pinned Application Exceptions
By default, web traffic from the following predefined certificate pinned apps bypass the Netskope cloud and go directly to the destinations:
Application
Platform
Adobe Creative Cloud
Mac

Windows

Amazon Drive
Android

Mac

Windows

Amazon Kindle
Mac

Windows

Amazon WorkSpaces
Mac
Apple App Store
Mac
Backblaze B2 Cloud Storage
Windows
Bitcasa
Mac

Windows

Carbonite
Mac

Windows

Cisco Webex Teams
Mac

Windows

Citrix Workspace
Mac

Windows

CrowdStrike Falcon
Mac

Windows

Diligent Boards
Windows
DocuSign
iOS

Windows

Dropbox
Android

iOS

Mac

Windows

Druva
Mac

Windows

Egnyte
Mac

Windows

ElephantDrive
Mac

Windows

Eventbrite
iOS
Facebook
iOS

Windows

Filemail
Mac

Windows

Foursquare
iOS

Windows

GitHub
Mac

Windows

Google Backup and Sync
Mac

Windows

Google Drive
Mac

Windows

Google Hangouts
Mac

Windows

Google Play
Android
Google Workspace
Windows
GoToMeeting
iOS

Mac

Windows

iCloud Drive
Mac

Windows

Jungle Disk
Mac

Windows

Keybase
Mac

Windows

LivePerson
Mac

Windows

Microsoft 365 Outlook
Mac

Windows

Microsoft Intune Company Portal
Mac
Mozy
Mac
OpenDrive
Windows
PingOne for Enterprise
Android
Planview Projectplace
Windows
Rally Software
iOS
Rescue Remote Support
Mac

Windows

Salesforce
Mac
Skype
Windows
Skype for Business
Windows
SpiderOak
iOS

Windows

SugarSync
Mac

Windows

Swizznet
Windows
TeamViewer
iOS

Mac

Windows

Toggl Track
Mac

Windows

Tresorit
Windows
Twitter
Android

iOS

Mac

Windows

Workday
iOS
Zoom
Mac

Windows